PRIMA MATERIA – الرَحِم الأوّل – AL‑RAHEM Al‑AUOAL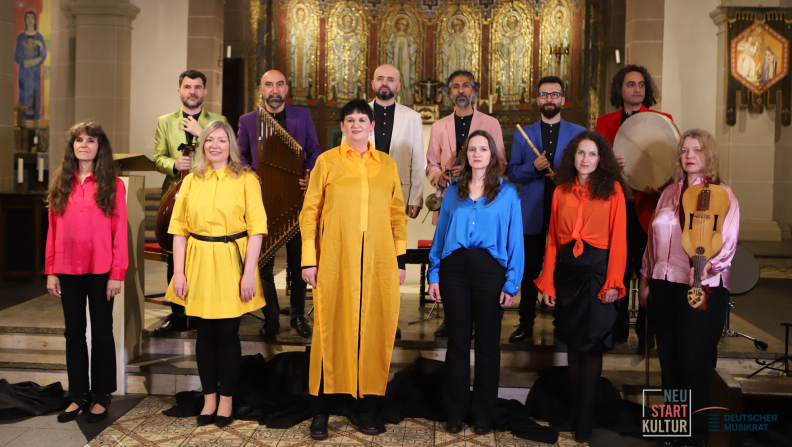 Hildegard von Bingen (1098-1179) is one of the most important women of the German Middle Ages and is known today far beyond the borders of her Rhenish homeland. She succeeded in captivating her contemporaries as much as people today who are searching for meaning, orientation, wholeness and salvation. In several songs and texts she uses the expression "Prima Materia". Hidden in the Latin word "materia" is the word mater = mother. Translated, "Prima Materia" means primordial womb, from which God accomplishes creation. That is why Mary was the center of her veneration, because in Hildegard's thinking Mary was the embodied "Prima Materia".
Mary plays a prominent role in the Q'ran: she is the only woman mentioned by name in the Q'ran and after Moses, Abraham and Noah, Mary is the most frequently mentioned person, i.e. she is mentioned more often than Muhammad and Jesus. And the Qur'anic descriptions of her character are consistently full of recognition and admiration. Thus, an entire sura bears her name, Maryam, sura 19. In this sura, mercy itself repeatedly becomes the name of God, thus reminding us that it would be a simplification to associate God only with male attributes. Especially through Mary, a space opens up in these verses to be able to approach God from a female perspective. For the Arabic roots of the word mercy: al rahmam الرَّحمن are the same roots of the word for womb: al rahem الرَحم .
Programm
Ich bin ein furchtloser Mann
Bassem Hawar (Musik), Khaled Shomali (Text)
O virga ac diadema
Hildegard von Bingen (1098-1179) Text und Melodie
Ich bin ein furchtloser Mann
Bassem Hawar (Musik), Khaled Shomali (Text)
Cum erubuerint – Keiner versteht mich
Hildegard von Bingen (Text und Melodie), Maria Jonas (Arrangement), Bassem Hawar (Musik), Khaled Shomali (Text)
O cruor sanguinis – Arabi
Hildegard von Bingen (Text und Melodie), Maria Jonas (Arrangement), Bassem Hawar (Musik)
Du siehst traurig aus – Psalm 91 – O cruor sanguinis
Bassem Hawar (Musik), Khaled Shomali (Text)
Gregorianischer Choral
Hildegard von Bingen (Text und Melodie), Maria Jonas (Arrangement)
Aer enim volat – Studium – Männer
Hildegard von Bingen (Text und Melodie), Maria Jonas Maria Jonas (Arrangement), Bassem Hawar (Musik)
Karitas – Ruf
Hildegard von Bingen (Text und Melodie), Maria Jonas (Arrangement), Bassem Hawar (Musik), Khaled Shomali (Text)
O splendidissima gemma
Hildegard von Bingen (Text und Melodie), Maria Jonas (Arrangement)
Nimm mich mit
Bassem Hawar (Musik), Khaled Shomali (Text)
Wie oft sagte ich
Bassem Hawar (Musik), Khaled Shomali (Text)
O viridissima – Frage
Hildegard von Bingen (Text und Melodie), Maria Jonas (Arrangement), Bassem Hawar (Musik), Khaled Shomali (Text)